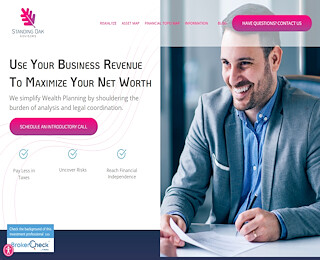 Small businesses live and die based on cash flow. Their profit and loss statements is the window into their health. Uncertain markets and inflation present unique challenges for businesses. A strong financial plan and team to implement a financial strategy can help make your finances clear and potentially keep more money in your bank account.
Most Important Factors Needed to Manage Small Business Financial Planning
 Income statement – The report will tell how your business is performing and how much loss and profit you have in the business over a period of time. We can review cash flow in specific periods and in general. This will help your financial planning team identify how to adjust potentially wasteful liabilities and operational expenses and improve the business' financial health.
 Balance sheet – This data shows a momentary snapshot of your finances. We review the business' assets, liabilities, and equity in the balance sheet.
 Personalized plan – As your financial advisor, we'll look at all of the aforementioned reports and map out a plan of short- and long-term financial goals that can help to build your wealth and your company's finances.
Tips We Use for Financial Planning of Small Businesses
Clarify Your Goals 
Small business owners, at the very beginning of their business, tend to have limited capital and their personal finances are intertwined with the company's income. However, as a business mature, separating the two entities becomes more and more important. This allows a business owner to identify goals on a corporate and individual basis. When clarifying goals we want to specify time frames, risks, and amounts. This allows you to identify the returns and inputs necessary to hit those goals.
Explore Alternative Capital Resources 
When many small business owners start their business they turn to their own finances, or acquire small business loans. Personal and institutional loans can quickly run out and leave the business owner with limited financial options. It's our job to coordinate financial plans for small businesses and look outside the limited options and identify alternative financial sources and what is necessary to utilize those options. There are funding sources with programs designed for small businesses. Knowing who to talk to is just as important as knowing what to talk about.
Focus On Improving Your ROI
Many successful small businesses fail because an unexpected shock effects cash flow. The owners fall behind on basic bills like payroll, office lease, etc. As your small business financial advisor Orange County, we focus on ways to streamline liabilities, maximize existing opportunities, uncover new opportunities, and create a plan to account for hiccups and focus cashflow toward specific goals.
Small business owners have a lot of obligations when trying to expand their cash flow. Let us help you map a path toward business growth. From established business looking to grow to business owners considering succession and retirement planning, Book a personalized consultation on the importance of financial planning.
Disclaimer:
​Investment Advisory Services offered through Newport Wealth Advisors, (NWA) a CA Registered Investment Advisor. Securities offered through Centaurus Financial, Inc. a registered broker/dealer and a member FINRA and SIPC. This is not an offer to sell securities, which may be done only after proper delivery of a prospectus and client suitability is reviewed and determined. Information relating to securities is intended for use by individuals residing in CA. Centaurus Financial Inc., Newport Wealth Advisors Inc., and Standing Oak Advisors are not affiliated companies.